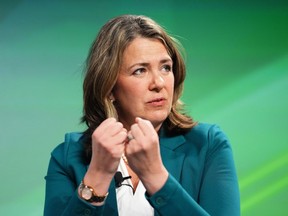 Article content
We can say one thing with certainty when it comes to Premier Danielle Smith and her alleged interference in the justice system — Smith is nothing if not the champion of jamming her foot into her mouth.
Article content
She is her own worst witness.
Article content
At the same time, however, is it also not possible that Smith's fiercest critics are guilty of putting the worst spin on her muddled thinking and zealous declarations about getting fines and charges dropped against those accused of breaking COVID public health orders?
After all, the Alberta Crown Prosecution Service itself has clearly stated that neither Smith nor her staff has ever contacted prosecutors to try to persuade them to drop a case. Kimberly, assistant deputy minister of the Alberta Crown Prosecution Service (ACPS), lashed out at such allegations of political interference with the zealously-guarded independence of prosecutors.
"This unsubstantiated speculation harms the reputation of the ACPS and does a disservice to the dedicated professionals in ACPS who carry out their work with unwavering integrity," Godard said in late January.
Article content
No mincing of words there.
But what about all the times Smith herself proclaimed she talked to prosecutors?
Did she not make such statements as part of her repeated and open advocacy for amnesty for those accused of breaking COVID public health orders?
She definitely promised she would fight for their amnesty on the UCP leadership campaign trail. A few weeks after becoming premier in October, she pushed her agenda.
"As for the amnesty, I have to get some legal advice on that," she said. "My view has been these were political decisions that were made (to charge people). And so I think they can be political decisions to offer a reversal."
A few months later at a news conference on Jan. 12, Smith was at it again. Our justice system is independent, Smith said, with independent Crown prosecutors. "I do want to make sure that they have an independent process for assessing that. But I ask them on a regular basis as new cases come out, 'Is it in the public interest to pursue?' and 'Is there reasonable likelihood of conviction?' I'll leave the justice system to work but I do think that's an important lens to be looking at these kinds of charges."
Article content
At once, Smith's critics took this as proof she'd been abusing her power and twisting the arms of Crown prosecutors. Smith quickly clarified, admitting to "imprecise language" and saying she'd talked only to her justice minister and his top deputy minister. "At no time have I communicated with Crown prosecutors."
Things heated up again in late January when a CBC story reported that unnamed sources were claiming an unnamed member of Smith's staff had sent emails to unnamed people in the Alberta Crown Prosecution Service.
That's a whole lot of unnamedness.
Smith said the story was untrue and demanded a retraction and an apology. She also said she'd spoken with Artur Pawlowski, a controversial Christian pastor who had been fined repeatedly for violations and faced trial for protesting at the Coutts border.
Article content
A recording of Smith's private conversation with Pawlowski — which evidently happened in early January before Smith first got into hot water on her amnesty efforts — has now been provided to the CBC.
In the call, Smith sympathizes but tells the pastor she's in a bind because she's found our system doesn't allow her to grant clemency. She can only ask prosecutors if there's a reasonable likelihood of conviction and if it's in the public interest. "I assure you I have asked them that almost weekly ever since I got started here," she said.
Smith now says there's nothing new in this conversation. Her defence continues to be that she said "prosecutors" but meant digging into overall policy with the justice minister and deputy minister.
Article content
The matter is a muddle. That said, we do have one thing that provides clarity — we don't have to trust either Smith or her critics because the most credible person on this matter isn't them, it's Godard of the Alberta Crown Prosecution Service.
Godard has made it abundantly clear there's no evidence of contact between Smith or her staff with any prosecutor. Unless a prosecutor now comes forward and contradicts Godard, I'll go with her statement as being the most trustworthy and reliable.
Just how these allegations will play out with voters is another question. Smith has already stopped hammering away on her hardcore positions on COVID health restrictions and mandates.
But I wonder if her opponents appreciate just how much and how many Albertans hated COVID-era restrictions. That Smith has adamantly and even over-zealously championed the anti-lockdown, anti-mandate cause may not be the poison pill some are hoping.