A new format will see 115 films in four theatres across 11 days, from major features to shorts from local creators like Ryan Leedu
Reviews and recommendations are unbiased and products are independently selected. Postmedia may earn an affiliate commission from purchases made through links on this page.
Article content
If the shoe fits, get running! With 25 feature films and 90 shorts, the 37th annual
Article content
kicks off Thursday.
This year's local-to-international film roster sports a terrific-as-usual range of subjects and styles.
Notable features include the mutation sci-fi film The Animal Kingdom, the Hirokau Kore-eda (Shoplifters, Brokers) drama Monster, musical comedy The Persian Version, and German/U.K. profile documentary, Werner Herzog – Radical Dreamer.
From the Indigenous creation-myth animation of Four Souls of Coyote to the end-of-the-world comedy short Apocalypse Dog, to the new Elliot Page drama Close to You and local filmmaker Eva Colmers' take on Oscar Wilde's The Happy Prince, you can find the full list and schedule at edmontonfilmfest.com as well as its well-done program.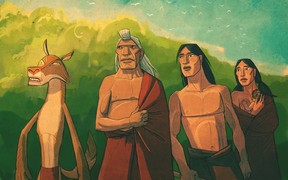 EIFF's "Marathon" theme this year really couldn't be more appropriate.
Having lost their usual home venue of Edmonton City Centre's Landmark Cinemas, soon closing for "renovations and upgrades," EIFF had to pivot to find a new base.
"We scrambled because we wanted to keep things downtown as much as we can," says EIFF's executive director Sydney Moule, "and we actually found four locations."
Article content
Thus, this year's 11-day festival will run Sept. 21-Oct. 1 inside theatres at the Stanley Milner Library, Art Gallery of Alberta, Metro Cinema in the Garneau Theatre, and the IMAX Theatre out west at Telus World of Science (TWOSE).
"I think it brings the festival to people who maybe haven't heard of it," says Moule, adding that the science centre screen was necessary as it can handle large DCP movie files. "I've learned how to go with the flow and adapt to things changing."
Of course, this year's challenges include the ongoing, industry-stopping SAG-AFTRA strikes down south.
"We definitely noticed a real decline in features available to us," Moule notes. "Distributors are holding off titles until the strike ends when they can bring out all these actors to festivals and celebrate the films a bit more."
This meant fewer films available for this year's lineup, with fewer guests backing them up.
"Last year we had over 75 filmmakers," says Moule, in her second year running the fest. "This year it's 25 or 30.
"We get to rest a little without needing to entertain as many filmmakers," she jokes. "But we love to showcase Edmonton to these filmmakers, and showcase these filmmakers to Edmonton."
Article content
Which, of course, brings us back to those 115 movies.
As is traditional in this space, the festival director recommends five features, starting with the opening night film, A Shit Day, directed by Kevin T. Landry. He'll be in attendance at the 6:30 p.m. Thursday screening at Metro Cinema.
"It's a gritty, French-Canadian drama, darkly funny and thrilling," says Moule. "Oh, and it's absolutely beautiful."
Next up, at 9 p.m. Friday at TWOSE is Jason Yu's Sleep, a South Korean black comedy.
"It's one of my favourite films this year," says Moule, "about this young couple whose life is turned upside down when he starts sleepwalking and turns into a completely different person."
Article content
Third on Moule's hit list is the documentary Geoff McFetridge: Drawing a Life.
"He's done art for Apple watch faces and worked with Spike Jones and Sofia Coppola," she explains. "And he's just this fascinating artist." This one runs 6:30 p.m. next Saturday at Milner.
Purgatory Jack is up next, 6:30 p.m. Sept. 27, directed by the Butler Brothers, who will also do a Q-and-A at the Milner screening.
"They've been here before," says Moule, "and they're just the most fun guys and you really feel it through their filmmaking. This one's a neo-noir mystery thriller set against the backdrop of purgatory."
Finally, Moule endorses Randy Martin's Karen Carpenter: Starving for Perfection, 7 p.m. Sept. 28, also at Milner.
"It's super tough to watch," says Moule. "You really feel the pressure that the media put on her and she put on herself to be perfect."
Plenty of Edmonton-made films abound at EIFF, as well.
For instance, the closing-night gala feature, Cody Lightning's hybrid documentary-narrative, Hey Viktor!
In the real world, Lightning was a child actor in 1998's Smoke Signals. But this hybrid comedy-drama is a fictionalized narrative of himself trying to write, direct and star in the imaginary Smoke Signals 2: Still Smoking. This runs 6:30 p.m. Sept. 30 at Milner with a Q-and-A, plus a gala afterparty at AGA to follow.
Article content
Another local feature is director Ava Karvonen's documentary, Lessons from the Sunflower, showing the resilience of cancer survivor Steven Csorba, which runs 7 p.m. Sept. 29, also at Milner.
As far as local shorts go, they pepper the Studio A — a for "Alberta" — short film series.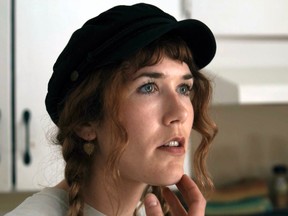 Scroll through the festival guide for full writeups, but these include No Bedroom, the first film from local director Ryan Leedu, who incidentally happened to location scout for The Last of Us. The short's star, Cassandra Paige, won the jury award for Breakout Performance at Canadian Film Fest in April.
"It features genuine, improvised interactions between the characters," Leedu explains, "and provides a glimpse into the life of a modern, lonely and relatable young person searching for connection in any way, however strange."
"It means a lot to finally have a local screening," Leedu adds, "because this film is part of a continuation of films that I am making that are very specifically Edmonton-set."
Besides the five-part Studio A series starting 6 p.m. Friday at Milner, EIFF's five Short Stop packages are each centred on a theme, from family to horror to passion.
Article content
EIFF is also bringing back its trademark Lunchbox Shorts packages — $20 each including food, running Sept. 25-29.
Most single films and shorts packages run $15 a pop, with tickets and passes this year all in one place at eventive.org. Note: Tickets are available only online — no door sales. Six-packs are $75, and a $199 All-Access Pass gets you into everything.
"Our whole thing is, we just try to introduce our audiences to filmmakers they've never met before," says Moule, who notes the Oscar-qualifying EIFF has led two short films directly to Academy Awards wins.
"You never know who you're going to be sitting next to, it could be the next Oscar-winning filmmaker."
Watch the Arts section at edmontonjournal.com for reviews of some of this year's features ahead of the festival's launch on Sept. 21.
PREVIEW
Edmonton International Film Festival
When Sept. 21 – Oct. 1
Where Muttart Theatre at Stanley Milner Library; Ledcor Theatre at Art Gallery of Alberta; IMAX Theatre at Telus World of Science ; Metro Cinema at Garneau Theatre
Tickets $15 regular tickets; $20 galas and Lunchbox Shorts